COVID-19 UPDATES
At this time we are only open mornings Monday through Friday 7am until noon, other hours are available by appointment.
We are looking forward now for fall, and are ready to be open longer hours again to help our clients as local businesses are re-opening and bringing their staff back on board, With larger events, youth sports, plus fall school activities beginning again, we are ready to help with all your apparel and promotional decoration needs.
We have signs posted at our entrances regarding safety guidelines. We have floor signs that allow us to meet with you and easily maintain the recommended 6ft distancing. We have hand sanitizer and paper towels available for your use. We also have single use economy fabric masks if you should need one while visiting.
We do ask for you to set an appointment window so we can be respectful of all our clients needs during this phase for re-openingand have the time to meet with you for your projects.
We do ask for you to wear a mask while entering and exiting the building as we do rent from another business and they maybe in the entrances and public areas etc.. at any given time.
Once inside the shop you are more than welcome to de-mask if you are comfortable, we will follow social distancing and your comfort level with masks; and we will be sanitizing the high contact areas between client visits, as well as offering contactless online payment options and available contactless pick up/drop off if it should be needed.
Thank you in advance for understanding, and let us know if you have any concerns that we can help address.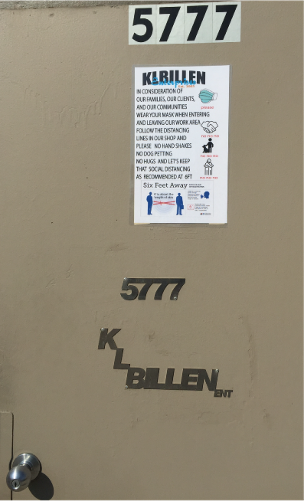 © Copyright KL Billen Enterprises 2020